How to Plan a Wedding Reception Timeline
Your wedding reception is undoubtedly the most fun part of your wedding. You've both said your "I dos" and it's time to let your hair down and celebrate. Having a well-thought-out plan in place lets you enjoy yourself with your brand-new spouse and loved ones without having to stress about what needs to happen next. Read on for our tips on how to plan your wedding reception timeline.

Make Sure You Include Everything You Want
We have discussed a general wedding reception timeline below. However, remember this evening is all about you and your spouse, so feel free to add or subtract events to make the reception all about you and what makes you happy.
Wedding Reception Timeline
The sequence of events described below can vary depending on whether you are planning an afternoon reception or an evening one and will need to be modified to suit various cultural traditions too. However, you can use it as a template to structure your reception. 
1. Cocktail Hour
The cocktail hour is where you newlyweds get to sneak off and take some pictures while you are still basking in that post-wedding glow. 
The cocktail hour starts immediately after your wedding it's at the same venue as the wedding or you'll need to factor in travel time if you're using two separate wedding venues. This is the time when your guests get to mingle while sipping cocktails. It can be a good idea to have your caterers serve some hors d'oeuvres during the cocktail hour as well. Cocktail hour lasts for, well, an hour.
2. Invitation to Dinner
Have your Master of Ceremonies (MC) announce that dinner will be served shortly and invite the guests to your reception area. Allow guests about 15 minutes to find their tables and get seated before you make your grand entrance. If your grand entrance requires your guests to welcome you outdoors (like if you are pulling up in a horse and carriage, for example) then have your MC ask the guests to move to a preplanned area before moving to the reception area for dinner. Add time to your schedule for the movement of guests accordingly.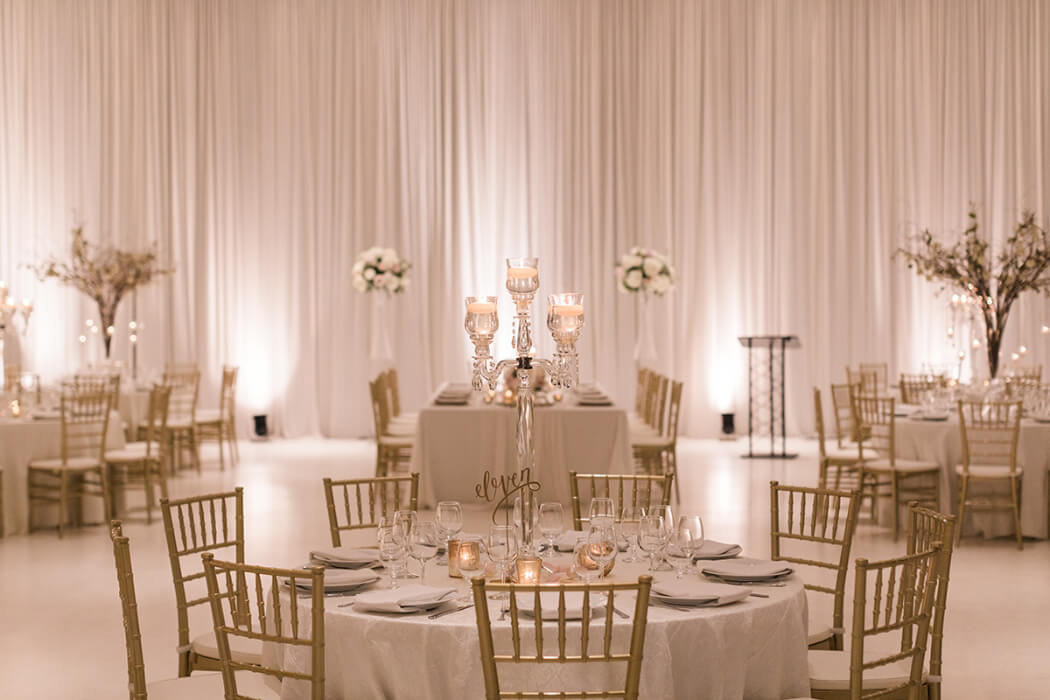 3. Grand Entrance
This is where you and your significant other are introduced to your guests. You can either have your wedding party precede you followed by your parents, and finally the newlyweds. Your entrance can be as lowkey or as flashy as you like. Sky Hanger lets you make an unforgettable grand entrance by landing in a helicopter only a few feet away from your guests. Estimate anything between 10 and 20 minutes for your entrance depending on the size of your wedding party and what you want to do.
4. First Dance
The guests' attention is already focused on you from your grand entrance. Take advantage of their warm, fuzzy feelings for you to have your first dance so they forgive any mistakes. You can also invite your guests to join you on the dance floor to shake a leg before you all sit down to eat. Keep this to a maximum of 15 minutes.
5. Dinner and Toasts
 Allocate about 45 minutes for dinner. Once the guests are seated and the first course is served, the toasts can begin. You may want to give a short speech to your guests to thank them, or simply start with a speech from the father of the bride followed by the maid of honour, best man, and anyone else on the list spaced out between the dinner.
6. Parent Dances and Dancing
As the meal is ending, you can have your parent dances (father-daughter, mother-son, or however else you want to configure them). You can choose to have them one after another or together. 15 minutes should suffice. Invite your guests onto the dance floor and get the party going! If you're going to do a bouquet and garter toss, then factor that in about 45 minutes into the dancing.
7. Cut the Cake
The cake-cutting signals that the end of the night is near. So cut the cake about an hour before you need to leave the reception premises.
8. Last Dance and After Party
Have the DJ announce the last dance, so guests know that it's time to wind down. Have an upbeat song so the night ends on a high note. Let your guests know where the afterparty is (if there is one) before making your exit. 
SKY Hangar offers everything you could ask for and more! Call today for pricing and availability.